Flashback of memorable Dine with Jaisalmer 2023
An immersive cultural and food experience where people welcome people to their homes and heart. An experience that tells the extraordinary way of life of the people of Jaisalmer, making a medium for them to share their unique stories with the travelers.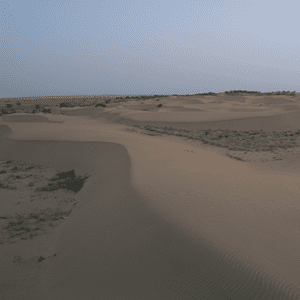 Come and experience the food, flavor, and culture of Rajasthan at Dine with Jaisalmer! Experience the hospitality of this beautiful desert state in all its glory!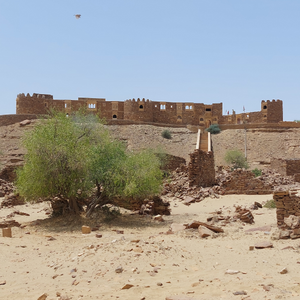 Enjoy a traditional Rajasthani meal in the company of locals and discover the culture, cuisine, and hospitality of this beautiful region.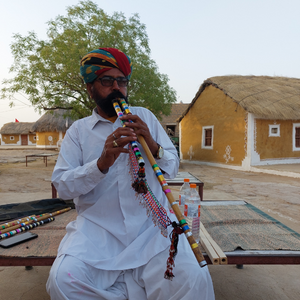 Get to see first-hand how traditional dishes are prepared using locally sourced ingredients and enjoy a delightful meal with the locals.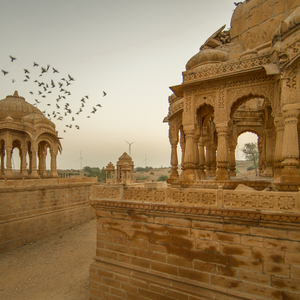 Enjoy the breathtaking views of the desert. Get to know the history and culture of Jaisalmer as you savor this unique culinary experience.
Bada Bagh - Shri Manish Solanki​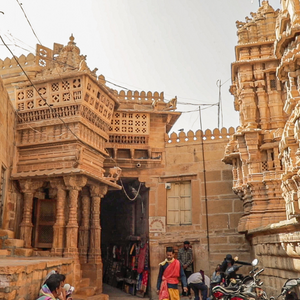 Suraj Haveli - Inside Fort
Witness the stunning architecture and vibrant culture of Jaisalmer while enjoying a delicious meal. explore the fort's rich history.
Suraj Haveli - Inside Fort​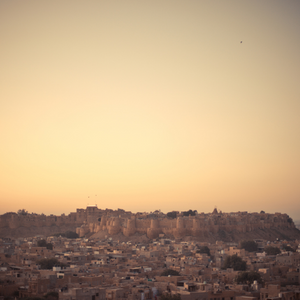 Achalwanshi Colony- Around Fort
Enjoy the meal that is prepared with authentic flavors of Jaisalmer and served in an exquisite setting.
Around Fort - Kalakar Colony​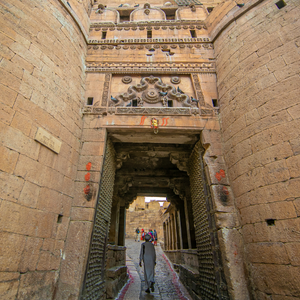 Opposite Sun temple - Inside Fort
Enjoy a delicious meal with Shobha Vyas and Avinash Vyas and explore their Shobha Handicrafts, located opposite the Sun temple, inside the Jaisalmer Fort.
Opp. Sun temple - Inside Fort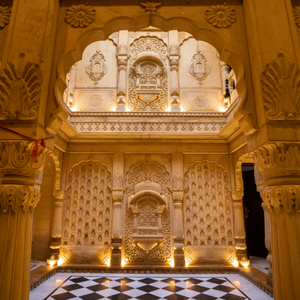 Explore the rustic beauty of this majestic city. Join us for an unforgettable memory as we bring together food, culture, and hospitality.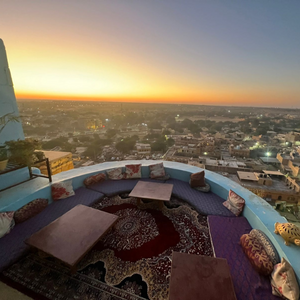 Enjoy an unforgettable evening of traditional Rajasthani cuisine and culture inside the majestic walls of the fort. onlooking the golden city in all it's beauty.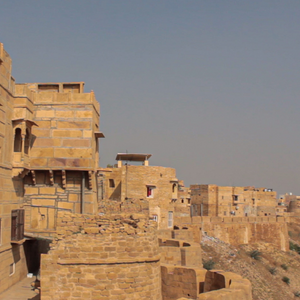 Enjoy a unique dining experience amidst the grandeur of one of India's most iconic forts, From traditional Rajasthani cuisine.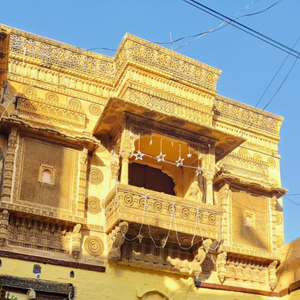 Opp. Hotel KD Palace - on Fort
Come and enjoy a unique dining experience in one of India's most iconic monuments, We welcome you for this special event.
Opp. Hotel KD Palace - on Fort​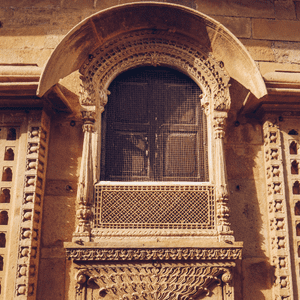 Enjoy a delicious meal in the royal atmosphere of the fort and create lasting memories with your loved ones.
Around Fort - Garh Meera​
The Jaisalmer Desert Festival is an annual cultural event held during the Hindu month of Magh (February). This year, the festival, which is locally known as Maru Mela will be taking place between the 3rd – 05th of February. In the wake of the Citizen-Airline Partnership, the city of Jaisalmer and its residents would be overwhelmed to have tourists and travelers from India, and the world, to come be a part of this cultural extravaganza!
We were happy to be part of Dine with Jaisalmer which brings local people and foreigners together. We were able to experience the lovely hospitality of the people of Jaisalmer and relish home-cooked Rajasthani food. Dhanyavaad to team I Love Jaisalmer and District Administration to make this experience possible.

"I was attending the Jaisalmer Desert Festival for the first time as a solo traveler. I feel glad to share my experience of how enthralled I was to witness the culture and heritage of this beautiful city during the festival. Your team did a great job in organizing events that involved the tourists as well. Personally, I liked 'Dine with Jaisalmer' which was a brilliant idea to walk into a local's house for delicious lunch. Also, another event that I liked was 'Explore with Us' in which I visited the Chundhi Ganesh Temple where I was able to interact directly with the temple's priest about its history. My journey was quite exciting and thanks for adding more colors to it. " Kudos! team

"This is to express my heartfelt gratitude for the food experience we had because of I Love Jaisalmer and our host Manisha Gajja, Jaisalmer. My friend and I sampled some authentic Rajasthani cuisine like daal baati choorma, ker sangri and bajre ke roti. Having stationed in Jaisalmer for the last 2 years, we have eaten this fare before, but this experience was all about personal touch and that's why it made all the difference. We thank our host Manish Gajja and his family members for opening their hearts and kitchen to us. They fed us with all their love and we went back home with our hearts and stomachs completely full. Thank you I love Jaisalmer for organizing this unique experience. "